I got the Acer Iconia A100 from Walmart for about $350 with tax on the 19th, and have rarely sat it down.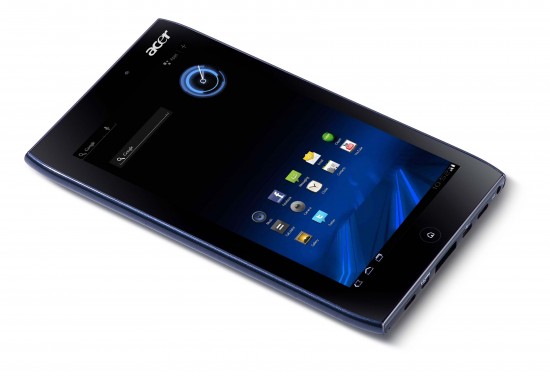 The Iconia a100 is touted as the first 7 inch tablet to run Android 3.2, this was the primary reason I decided on this tablet instead of my other choice, the Asus Transformer. The transformer had connectivity that the Iconia a100 doesn't have, such as a full sized USB port, and port for a keyboard dock. But the Acer tablet's size drew me in, as I wanted something a little more portable.
Hardware
The Iconia has a 7" LCD screen and weighs 0.92 lbs, with a dual core tegra 2 processor. Although it feels sort of plasticky, the build quality of this device feels very solid. Slight flexing of this device produces a very low, faint creaking, one you can't hear unless you put your ear close to it. On the left side of the tablet you have a 3.5 mm headphone jack, and the power/lock button. On the top is the screen orientation lock in the form a slider, and a volume rocker. The right side of this tablet has the charging port, speaker grill, mini USB, a docking port, mini HDMI, another speaker grill, and a pinhole sized reset button. The bottom of the device is bare. The back of the device sports a smooth design with Acer branding on it, with a helix-esque design.
Acer Iconia Compared To The iPad
Sound
The Iconia is equipped with Dolby sound,the speakers on this device deliver audio well.
Camera
The Iconia has a rear 5 MP camera, with an LED flash, and a front facing 2 MP camera. Based on reviews of other tablets, the iconia seems to be equipped with one of the better camera's.
Accessories
Accessories specifically designed for the a100 model seem to be sparse, but I have found a few things to purchase that will play nice with its form factor.
1.
Universal Stand
-This stand works fine with the acer tablet in addition to all other 10" tablets,and is surprisingly sturdy.
2.
Logitech Keyboard
-Although pricey, this keyboard will work with all android 3.0+ tablets.
3.
Hp Touchpad Keyboard
-Someone told me this keyboard also works with android tablets, I've ordered it and it works great, granted a few WebOs Specific keys dont work, but it makes a good keyboard for your tablet none the less.
Read the Review Here
Apps
There are alot of apps in the android market, and apparently android 3.2 allows phone sized apps to scale up to the tablets size. I have gotten several games that work very well with it, and a few good apps that I'm going to reccomend you get.
1.
Angry birds
(Original,Rio,Seasons)-Free
Kids and Adults alike love this game! Its a great ice breaker, plus all of these are free.
2.
Winamp
-Free
If you use winamp as your desktop player, which I do, you can use this app to sync all of your music wirelessly.
3.
Clear.fi
-Free
This app came pre-installed on the tablet, it is a nice video/music/photo streaming app, it worked right out of the box.
4.Movie studio-Free
Another pre-installed favorite, this app is used as you would use windows movie maker.
5.
Samurai 2
-$2.99
If your more interested in gaming on tablets, this is a great way to see how well your tablet can perform. Samurai 2, although a little pricey, is excellent, it has quick,fluid game play, accurate touch controls and well done audio, this app is defenitley worth the money. Another app worth a look is Third blade,and Colisseum.
These are just a few apps that I think you should consider purchasing, there are hundreds more in the app market for to look at.
Software
This is the first android device I've ever owned, currently I'm still learning about the software side of android 3.2, and actually may be getting another tablet that runs 2.3, although right now its unclear. Anyway, after I have a more solid understanding of how Android works, I will then review it.